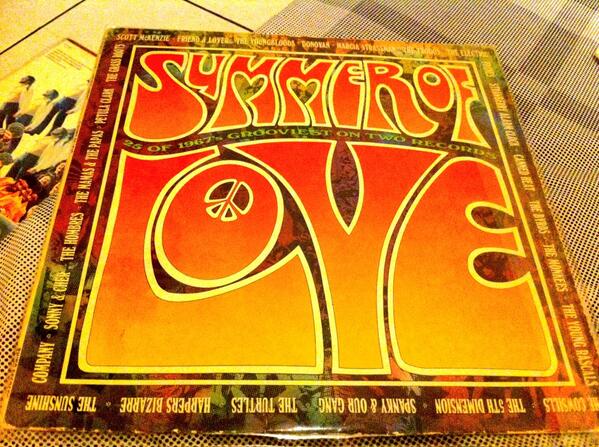 Ini lagu-lagu yang ada di dalam vinyl Summer of Love. Istimewa sekali karena ini adalah vinyl pertama yang saya beli.
A1

–

Scott McKenzie

San Francisco (Be Sure To Wear Flowers In Your Hair)

A2

–

Friend And Lover

Reach Out Of The Darkness

A3

–

Youngbloods, The

Get Together

A4

–

Donovan

Wear Your Love Like Heaven

A5

–

Marcia Strassman

The Flower Children

A6

–

Troggs, The

Love Is All Around

B1

–

Electric Prunes, The

I Had Too Much To Dream (Last Night)

B2

–

Strawberry Alarm Clock

Incense And Peppermints

B3

–

Donovan

Epistle To Dippy

B4

–

Canned Heat

Going Up The Country

B5

–

Byrds, The

Renaissance Fair

B6

–

Monkees, The

Daily Nightly

C1

–

Young Rascals, The

Groovin'

C2

–

Cowsills, The

The Rain, The Park & Other Things

C3

–

5th Dimension, The*

Up-Up And Away

C4

–

Spanky & Our Gang

Lazy Day

C5

–

Turtles, The

Happy Together

C6

–

Harpers Bizarre

The 59th Street Bridge Song (Feelin' Groovy)

C7

–

Sunshine Company, The

Happy

D1

–

Sonny & Cher

The Beat Goes On

D2

–

Hombres, The

Let It Out (Let It All Hang Out)

D3

–

Mamas & The Papas, The

Twelve Thirty (Young Girls Coming To The Canyon)

D4

–

Petula Clark

Don't Sleep In The Subway

D5

–

Grass Roots, The

Let's Live For Today

D6

–

Monkees, The

For Pete's Sake
Satu hal yang menarik dari vinyl ini ada semangat perubahan di era yang memang menyerukan banyak pergerakan dari para musisi.
The prelude to the Summer of Love was the Human Be-In at Golden Gate Park on January 14, 1967, which was produced and organized by artistMichael Bowen as a "gathering of tribes".
James Rado and Gerome Ragni were in attendance and absorbed the whole experience; this became the basis for the musical Hair. Rado recalled, "There was so much excitement in the streets and the parks and the hippie areas, and we thought `If we could transmit this excitement to the stage it would be wonderful….' We hung out with them and went to their Be-Ins [and] let our hair grow. It was very important historically, and if we hadn't written it, there'd not be any examples. You could read about it and see film clips, but you'd never experience it. We thought, 'This is happening in the streets,' and we wanted to bring it to the stage.'"
Also at this event, Timothy Leary voiced his phrase, "turn on, tune in, drop out", that persisted throughout the Summer of Love.
Enjoy the groove..